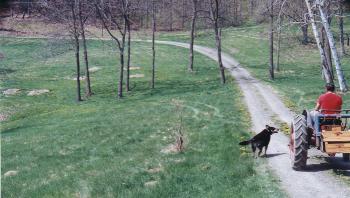 Off to the Orchard.
Paul Plum is a grower and marketer of tree ripe fruit, with an emphasis on stone fruit.
It's 2021, time for another busy Summer at Paul Plum!
All produce is sold at Farmers Markets in the Northeastern Pennsylvania area:
Pittston, Wyalusing, and Tunkhannock.
The Paul Plum stands will open on these dates:
July 9 Fri 9am-1pm - Wyalusing Farmers Market
July 10 Sat 9am-2pm - Tunkannock Farmers Market
July 13 Tue 9am-2pm - Pittston Farmers Market
---
Home Grown
100% of the produce sold at the Paul Plum stand is Home Grown on the slopes of a hidden valley above the Susquehanna River in Bradford county, Pennsylvania. In general, because of our harsh climate, a number of cultivars grown by Paul Plum are not recommended for propagation in the Eastern United States. Therefore, many of our fruits can not be found growing elsewhere in Northeastern Pa.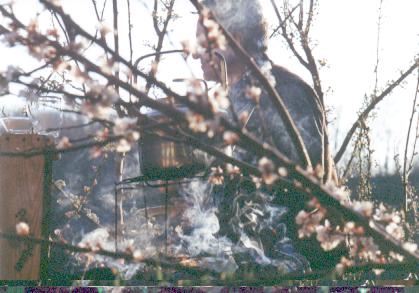 Spring Frost watch, and a cup of tea.
The French axiom that the finest full bodied wines come from grapes grown on the edge of their culture, may also hold true for some other fruits as well. Certainly with desire, hard work, and the warming and nurturing influences of the Susquehanna River, a great variety of often exotic, and always delicious Tree Ripened fruits are available weekly.

---
Stone Fruit
A word about Stone Fruit i.e., cherries, apricots, plums, peaches and nectarines. Unlike pome fruits (i.e., apples, pears, quince), stone fruit stops natural ripening once picked. Fruits that grow far away must be picked immature to survive the journey to market. When these trucked in fruits are placed in a bowl on your dining room table, or in a brown paper ripening bag, they soften and lose some acidity, but natural sugar conversion does not take place, usually leaving the fruit tart, mushy, and bland. Paul Plum stone fruits are left on the tree to fully ripen, then picked daily and rushed into the cooler to remove field heat. Please come in and taste our tree ripe stone fruit!
---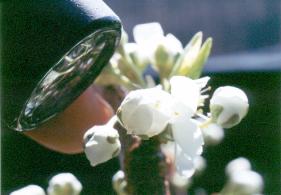 Looking close-up. Avoiding unnecessary spraying.
Tart Cherries
Some prefer to call them pie cherries because they make delicious pies, others like the sweet-tart taste and eat them out of hand. My tart cherries are Hungarian bred and a might sweeter than standard. They are Jubileum, Danube, and Balaton.

---
Apricots
Apricots, Cherries, and Plums compete to be the first fruit of the season. Apricots usually win by a day or two. Of all the major fruits apricots are the hardest to grow in the Eastern United States. That is why most Pennsylvanians have never tasted a sweet, tender, delicately aromatic tree ripened apricot. They are outstanding! My favorite fruit! If you have never tasted a tree ripened apricot, please don't deny your taste buds one of life's great treats. Come down and I'll give you a taste.
---
Plums
Paul Plum probably grows more varieties of Plums than anyone else in Northeastern Pennsylvania. Here, plums ripen from July to October, There are yellow plums, red plums, black plums, and colors in between. Some weeks a bonanza of cultivars ripen.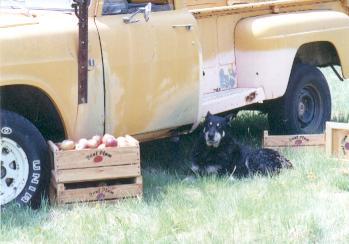 Hidden camera nabs orchard-hand Jockie Barker laying down on the job! Not only demoralizing for other crew, but ultimately the consumer pays with higher fruit prices. :-)
The plum, perhaps the sweetest of domestic fruits, must spend its time on the tree developing sugar until it is dead ripe, not in the back of a truck heading east! Just ask any opossum what the sweetest fruit in the orchard is. Opossums may be indecisive crossing the road in front of your car, but walking through a grove of fruit trees they will make a bee-line to the plum tree with ripe fruit. Opossums demand full sugar, but then, so do I.

---
Peaches and Nectarines
Tree ripe Peaches are a fruit many people can scarcely wait for. My Peaches and Nectarines, (mostly yellow fleshed, but some white) generally span from the second week of July to early October. Many White peaches are sweeter and more aromatic than yellow ones, but some are harder to transport, so are seen less frequently. Rariton Rose, one of my white peaches, is an ole time favorite and should be at the stand about the third week of August. Newer, easier to transport white varieties will also be available this summer. Super sweet donut peach, Saturn, plus Blushingstar, Summer Pearl, and super sweet White Lady, round out the whites.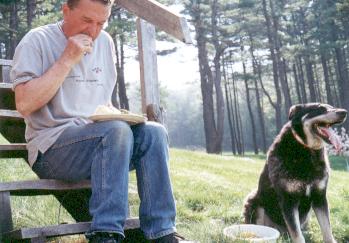 Lunch break - Jockie's too tired to eat...
I've had people come up to me and eulogize peaches but don't want to taste a Nectarine because they know they will hate it. Nectarines are just fuzz-less peaches. True, a particular cultivar of nectarine may taste slightly different than your favorite peach, but your favorite peach will probably taste slightly different than another cultivar of peach. My nectarines start ripening in mid August.
Some of my biggest and tastiest peaches ripen in late September to early October.
| | |
| --- | --- |
| QUIZ: | Where can you find tree ripe peaches in October? |
| ANSWER: | At Paul Plum's stand and virtually nowhere else. |
---
Pears
Pears, properly ripened are a delight. How "un-stone fruit" they are. They must be picked before tree ripe and cooled to approximately 38 degrees for a week or two, then brought up to room temperature where they will ripen in a few days. Given this treatment the fruit turns buttery sweet with no grit cells. Paul Plum has a number of outstanding cultivars, such as Aurora, Concord, Bosc, and Asian varieties Hosui, Yoinashi, and Olympic Giant. If you love pears, and have an extra refrigerator to store them in, you can have freshly ripened pears until February. Just take the number of pear you wish to consume each day out of the refrigerator and ripen on the table.
---
Apples
Of course Paul Plum has Apples. Starting in late August and early September with Ginger Gold, Sansa, and Gala, and ending with varieties ripening into late October.
---
Tomatoes
People are often disappointed if they don't find Tomatoes at the Paul Plum stand, so I grow a number of tasty slicing tomatoes, plus have some extra for those that wish to can their own.
---